David Wickes
One of Britain's leading film makers
by
Jon Scott
Michael Caine told The Hollywood Reporter "David Wickes is the fastest and most pleasant director I've ever worked for, and he's the master of filming Victorian England." That view is not untypical of the esteem in which Wickes is held by many of the stars he has worked with.
Born into a show business family (his father was a famous stage illusionist) Wickes grew up in the English town of Leamington Spa. After graduating from the renowned Sandhurst Academy, he won a place on Granada Television's coveted Production Training Scheme. A year later, he took a long-term directors course with Britain's top commercial broadcaster Thames Television.
He was soon helming primetime current events shows like This Week in the UK and The Struggle for Peace in the USA. His drama debut was a courtroom series Six Days of Justice, which earned high audience ratings. From that point on, Wickes was in demand to direct episodes of virtually every major UK drama series – from Spider's Web and Softly-Softly for the BBC to Public Eye and Special Branch for the commercial networks – all of which were sold to many countries. When not creating international drama series like Van der Valk for ITV and Target for the BBC, Wickes directed dozens of TV and cinema commercials for major advertisers.
Then, in a groundbreaking change, Wickes became the leading director of two iconic primetime UK series — The Professionals and The Sweeney. Both of these shows pioneered a hard, gritty approach that was to revolutionize police series on both sides of the Atlantic. Then, when EMI Films decided to exploit the success of The Sweeney series by taking it theatrical, they tapped Wickes to direct the feature film – Sweeney! In a style that would mark his future work, Wickes pulled no punches in this cinema debut.
The Daily Mail described Sweeney! as "the best crime movie since Peter Yates' Robbery." The film became a box office smash in a dozen countries and was the first Western-made film widely distributed in China. Briefly returning to television, Wickes now adapted and directed Georges Simenon's novel The Prison, which topped the ratings in Britain, Australia, France, Germany, Spain and Italy. This led The Daily Express to write: "A new-style movie. David Wickes brings an entirely new dimension to the screen, a new approach to film-making."
Next came a cinema hit for The Rank Organisation: Silver Dream Racer, starring Beau Bridges and David Essex. This landmark motorcycle saga did well at the box office and is currently the subject of remake rumours. After Silver Dream, Wickes flew to Hollywood with a calling card that became a gem. He had secured the rights to some of the best stories by America's great crime writer Raymond Chandler. Within days of learning this, HBO offered Wickes their very first drama slot, and the 12-episode series Philip Marlowe, Private Eye was born. With A-list writers and a bevy of high calibre directors on board, the casting of America's most famous detective was Wickes' biggest dilemma. There was speculation in the Trades about who could ever compete with the great movie stars who had played Marlowe in the past – names like Humphrey Bogart, Robert Mitchum and Elliot Gould. In the end, the role went to Powers Boothe and the show was a smash hit.
Now came Wickes' signature production for US network CBS – Jack The Ripper. The 4-hour miniseries, written, and directed by Wickes, starred Michael Caine, Jane Seymour and Armand Asante. At the time, it was one of the most expensive dramas ever made for television . . . and the investment paid off in spades. Jack the Ripper scored record viewing figures in America, Britain, Germany, Australia, New Zealand and several other countries. The show was nominated for 4 Golden Globes, including Best Miniseries, the award for Best Actor going to Michael Caine.
Wickes now moved to the US network ABC Where he wrote and directed Robert Louis Stevenson's classic horror story Jekyll and Hyde. In this movie, Sir Michael Caine played the same demanding dual role that had brought Spencer Tracy high praise decades earlier and that had brought Frederick March his Oscar.
Jekyll and Hyde achieved excellent ratings in the USA and the UK. It was sold in 86 countries. Some territories repeat it regularly.
For Turner Pictures, Wickes wrote, produced and directed his adaptation of Mary Shelley's classic story Frankenstein. The way he tells it, it happened almost by accident. "I was reading a article about genetic engineering, and I suddenly realized that it was the same idea as Mary Shelley's famous story. Right then and there, I knew I wanted to make it." The movie starred Patrick Bergin, Randy Quaid and Academy Award winner Sir John Mills. The production was based at London's Pinewood Studios with exteriors shot in Poland. "We needed a decent budget for A-list actors and effects," says Wickes. "Ted Turner's company did us proud." The international press agreed.
In the early 2000s, Wickes did something that he had hoped to do for some time . . . He brought back the worldwide hit that he had helped to define years previously – the fast-paced action series The Professionals. The new version, unsurprisingly called The New Professionals, had a far more international flavor than the original UK series. It was shot in the USA, South Africa and Europe as well as Britain. Starring Edward Woodward (The Equalizer) and Lexa Doig (Andromeda) The New Professionals was sold to 44 countries. It is still being repeated in some territories.
And the future?
Wickes has a slate of new projects in development, including a spy story, a Victorian romp, and what he calls the crown jewels – Venus Rising. "Venus is one of the most beautiful love stories of all time," he says, "and it's ablaze with intrigue and danger." Set in Renaissance Florence, the story revolves around one of the finest paintings in the world – Botticelli's The Birth of Venus.
"It's full of the unexpected," says Wickes, "I can't wait to tell the story."
Recently, Wickes has begun to explore the possibility of working with Hollywood's Lawless Entertainment on a 10-part series called Sanctus. Created by Cartherine Malatesta and Kathy Slevin, Sanctus is a truly exceptional project.
More later . . .
Copyright © 2017
The Wickes Company
www.davidwickesproductions.com
The following projects were all created by award-winning producer/director David Wickes of The Wickes Company. The Wickes Company is a UK production company with a long list of successful movies and high-end TV dramas for CBS, ABC HBO, TNT, ITV and others.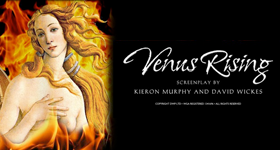 Venus Rising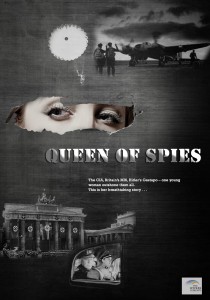 Queen of Spies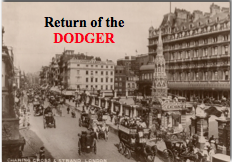 Return of the Dodger