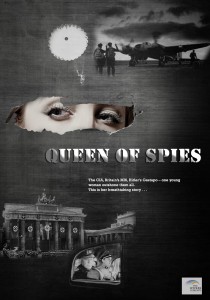 Concept
The Wickes Company is proud to share Queen of Spies, a drama mini-series project based on a true story. We are pleased to share the news that this project will feature award-winning UK actor David Suchet in the lead role of Wilhelm Canaris.
David Suchet is best known for his role as Hercule Poirot in the television series Agatha Christie: Poirot, as well as numerous film and television projects including Effie Gray, Great Expectations, Maxwell (for which he won an International Emmy), Diverted (for which he won a Gemini Award), The Way We Live Now (for which he won a Royal Television Society UK Award), and many more. You can view his full list of credits at www.imdb.com/name/nm0837064.
Queen of Spies has been described as the greatest espionage story never told. It is the story of Halina Szymanska, the young woman who out-shone the CIA, Britain's MI6 and Hitler's Gestapo while working with Admiral Wilhelm Canaris, chief of Hitler's powerful Military Intelligence Agency – the Abwehr – during the darkest days of World War II.
From 1938 to 1944 Canaris performed a tightrope walk unparalleled in espionage history. This brave man used the power of the Abwehr to undermine Hitler's regime and support the Allied war effort. At breathtaking risk to himself, Canaris saved many thousands of lives while working with Halina as the brave young courier who delivers these priceless documents.
While producing enough "results" to preserve the Abwehr's value in the eyes of the Nazi High Command, Canaris routinely passed Hitler's plans to the Americans and the British through Halina, while doing everything in his power to destroy the Nazis from within.
We are very pleased to inform you that we have in place a Letter of Intent through Belgium's tax shelter scheme in support with the Belgian Tax Board.
Target Market
Adults
Available
Co-production, finance, and distribution for all media, licensing and merchandising worldwide.