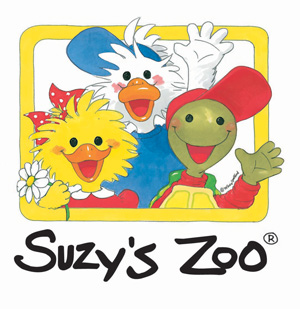 Concept
From the colorful backyard of bugs where Witzy and his teddy bear Boof and others explore their environment to the world where Jack Quacker, Suzy Ducken and Corky Turtle have their adventures all over town, and beyond, —come visit ALL the denizens of a magical place where folks from 1 to 100 years of age can be amused and amazed! Even dogs and cats have a home in the best town on Earth: Duckport!
Suzy's Zoo Background
Suzy's Zoo was established in 1968 by award-winning artist Suzy Spafford. Deriving from Suzy's own childhood memories, it evokes the spirit of a time before the advent of cell phones and computers, when kids were free to roam their neighborhood and make their own discoveries. Welcome to an unspoiled world of fun! Under the Big Top of the master brand 'Suzy's Zoo' are the three sub-brands- Little Suzy's Zoo, all about the toddler duckling Witzy and his stuffed animal friends; Duckport, featuring Suzy, Jack, Corky, and the rest of whole town; and Wags and Whiskers, featuring the lovable dog Kirby Harrington, the smarty-pants cat Natasha, and their cat and dog pals.
There are many superb licensing partners that sell Suzy's Zoo images on such products as infant clothing, greeting cards, bedding, books, table.
Target Market
Suzy's Zoo (aka Classic Suzy's Zoo / Duckport) - Ages 4-100
Little Suzy's Zoo - Ages 18 months - 4 years
Website
www.suzyszoo.com
UK/Europe-Focused Website - www.witzyandfriends.com
Status
Animated television series in production
Available
Licensing and merchandising; worldwide television and home video rights
Click here to learn more about Suzy's Zoo