The Los Angeles–based agency will represent the brand worldwide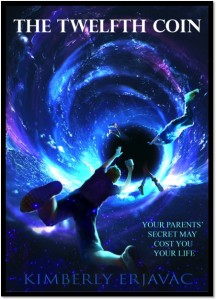 FOR IMMEDIATE RELEASE
Contact: Sondra Contino, Lawless Entertainment, (949) 419-6156, [email protected]
Los Angeles, CA, September 27, 2017 — Lawless Entertainment is delighted to announce their appointment as worldwide licensing and merchandising representatives for The Twelfth Coin. Lawless will also seek co-production financing for the property.
The Twelfth Coin, written by Kimberly Erjavac, is the first in a series of books targeted to the middle school audience.
The Twelfth Coin is a tense high stakes adventure/mystery geared for middle-grade audiences with time travel adding an element of sci-fi to the mix. Four main characters aging from twelve to fifteen unravel clues and risk their lives as they attempt to find their kidnapped fathers. Many of the most frightening moments are those not actually shown, but left to the viewers' imagination.
"I'm thrilled to be joining Lawless Entertainment, and to have the opportunity for my series, The Twelfth Coin, to reach kids around the world," says creator Kimberly Erjavac.
"This is a story that will grab middle school readers and leave them begging for the next two books in the series," says Cathy Malatesta, President of Lawless Entertainment. "We look forward to finding the right publisher for this adventurous and fun book."
* ENDS *
Notes to Editors:
About Lawless Entertainment
Lawless Entertainment is a Los Angeles-based company that creates, co-produces, distributes and markets both animated and live-action programming throughout the world for both film and television that is headed up by President Cathy Malatesta. Lawless works with content providers and has relationships with top film, television, home video, online and mobile distribution entities throughout the world.
For more information contact Sondra Contino at (949) 419-6156 or visit www.lawlessent.com.
About the Author
With the flu, bedtime came early. That's when the feverish dream began. Three teens - two boys and a girl - are walking down an ally along-side a younger boy on bike. Ahead of them, a small circular object on the ground begins to glow. A bright light appears, followed by colored beams shooting out in every direction. The shafts of light crisscross each other, creating a spectacle. While the others shield their eyes, a blue beam holds steady in front of one of the boys. Mesmerized by the blue beam, he watches mathematical equations float towards him. As if in a trance he nods, repeating the only word that he could force from his lips, "yes". Suddenly the lights are gone. They rush to see what appears to be an ordinary penny on the pavement, and the dream ends. The next morning Kimberly Erjavac became a writer.
The Twelfth Coin is Kimberly's first series of novels, and she looks forward to captivating readers world-wide.
Born in Detroit and raised in Ecorse and Woodhaven, Michigan, she now resides in Los Angeles.