Concept
A Children's Brand for the Righteous and Radical!
Here at Surf Sharks we are PRO SURF and PRO SHARKS. Our goal is to educate children through positive entertainment on one of the most important and misunderstood creatures on the planet, sharks. Surf Sharks is the only children's brand on the market based specifically on sharks. With over 300 species of sharks, the story lines for an animated series, toys, apparel and gaming options are endless. With the tremendous popularity surrounding sharks, Surf Sharks is a natural for today's kids. Ride the next big wave with Surf Sharks entertainment!
"Finally, a Fun Kids Book about sharks!"
~ Discovery Channel Shark Feed
The Surf Sharks brand is based on a series of children's picture books illustrated by award winning artist, Chance Wolf. With his extensive background in comic books, including titles such as Teenage Mutant Ninja Turtles and Spawn, Chance has created a unique line up of righteous and radical characters. For the first time, sharks and surfers will face challenges, meet new characters, and shred the waves of adventure together!
Book #1: "Surf Sharks – The First Ride"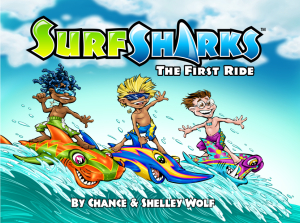 Meet Mavrik the valiant mako shark, Hemi the lovable hammerhead and Talon the tenacious tiger shark, along with their surfer friends Rip, Ozzy and Wade, as they help each other escape danger, solve problems and discover a common love for the waves. Surf Sharks – The First Ride is filled with excitement, surprising characters and fascinating facts about sharks. The hardbound book and E-Books are now available WORLD WIDE and everywhere books are sold!
Book #2: "Surf Sharks – The Bogus Beach"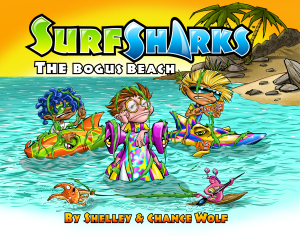 The Surf Sharks and friends are shocked to learn their favorite beach has been taken over by troublemaker Brok and his bull shark Blaze. With the help of Tess, a feisty surfer girl, and her glamorous bonnet head shark Bella, the Surf Sharks and friends devise a plan to get their beach back. But if their plan doesn't work…they'll be stuck surfing at the Bogus Beach. Be prepared to learn about sharks in this fun filled adventure, available December 2014 in bookstores everywhere!
Visit Surf Sharks on Facebook, Twitter and at www.surfsharks.com
Target Market
Children ages 4-12
Available
Co-production, finance, and distribution for all media, licensing and merchandising worldwide.